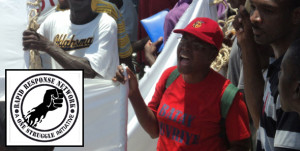 On January 30, an assassination attempt was made on Yannick Etienne, a militant of Batay Ouvriye (Workers Fight), in the SONAPI industrial zone of Port-au-Prince. The perpetrators were flunkies of the NGO/yellow union CNOHA (Central National Workers of Haiti).
Some of the context of this attack revolves around ongoing negotiations between textile trade unions and the garment factory Multiwear SA for back pay of wages unpaid to workers – wage theft.
Below is a translation of a statement made 1/6/15 by SOTA-BO, elaborating on the context of this struggle, and the false claims of yellow union, CNOHA.
On the Negotiations at Multiwear:  Textile & Garment Workers Union (SOTA-BO)

Labor Comrades, we are taking this opportunity to inform you on the question of the salary arrears contrary to manipulators who are making up lies to create confusion among you. There are some so-called labor organizations that are gorging out lies to put you in the dark. Those organizations have stated there is U.S. $114 million slated for the workers at Multiwear; we, at SOTA-BO, know nothing about this money they are talking about. And to us, organizations that lie to recruit members are engaging in negative and reactionary practices that are inimical to the development of a courageous and serious labor movement. As the sayings go, the depth of lies is not deep (Twou manti pa fon); lies end up as pencil lead (Manti gen pou finitankou yon min kreyon).
After all the demonstrations we held to denounce the Supreme Salary Council in January 2014,we engaged in campaigns to force the companies that placed garment commands in Haiti to pay 300 gourdes (U.S. $6.38) for production. We were negotiating with three companies, namely, Fruit of the Loom, Hanesbrand, and Gildan. Those negotiations followed the Workers Rights Consortium Report that pointed to the wage theft against the workers.
According to WRC calculations, workers were shortchanged by a lot of money that they never received because of wage theft. However, in all the negotiations, the documents involving the WRC calculations on the amount of money the bosses owe the workers due to wage theft were numerous. However, those calculations were never presented to the companies due to the fact that the Ministry of Social Affairs and Labor (MAST) sent a letter and note to affirm that the minimum wage was 200 gourdes (U.S. $4.26). And that300 gourdes (U.S. $6.38) is a goal the workers can achieve when they do piecework.
We want to emphasize that at the beginning of negotiations, there were representatives from CNOHA and CFOH. But, when the [foreign] companies kept their positions that they would not sign any agreement with the Haitian unions because they are not their employers, the negotiations proceeded with the Haitian bosses.
In stark contrast to the representatives of these two organizations who stated they only want to negotiate with the "Blan" (meaning the whites or foreign companies), we at SOTA-BO and ESPM-BO opted to engage in negotiations with different Haitian bosses to help piece-work workers earn the 300 gourdes wage at the least for an eight-hour workday. Besides, when the delegation returned from the United States, the minister of Social Affairs reprimanded the representatives of CNOH and CFOH telling them they weren't sent to negotiate with the foreign companies.
SOTA-BO and ESPM-BO split up from them because we realized that the Haitian state was bent on buying them off. Then, we heard rumors about money swaps and deals going on. At that point, we weren't concerned because we had already broken relations with them.
Therefore, neither CNOHA nor CFOH participated in negotiations with the Haitian bosses that brought about the signing of an agreement guaranteeing 300 gourdes at the least for an eight-hour workday plus monies that the companies agreed to pay as wage arrears or 2 months wage arrears. With that, production wage of 225 gourdes ($4.78) increased to 300 gourdes ($6.38); what was 300 gourdes increased to 375 gourdes ($7.98), etc.
In the agreement, it was stipulated very clearly the right to organize a union should be respected and then, each month, the union will meet with the boss to assess whether the implementation of the agreement was respected; and during audits, we must be informed about findings on the question of paying 300 gourdes at the least in addition to the possibility of negotiating a Collective Bargaining Agreement with Multiwear.
On the question of 2-month wage arrears or retroactive wages, the other labor organizations have shown their inability to understand how this works. Or perhaps, they are so frustrated and angry they turn to spreading lies against us. They say that our members had gotten money when no money was given yet. They say the wage arrears amount to U.S. 114 million without an explanation of where they get this number. The piece of paper they presented is not valid because there is no signature of the company representatives or the Haitian bosses. We dare them show a legitimate document that confirms that the 2-month retroactive wages amount to U.S. $114 million. If they can't show this, it's a bunch of lies and speculation or they are daydreaming. How can we workers trust people who are lying? For us, the strength of an organization lies in always telling the truth.
In this context, we are demanding that these fake (abolotcho) organizations bring forward the U.S. $114 million they are talking about. When they give it, the 2-month retroactive wage calculated at U.S. $4,300 that the Hanes Company agreed will be distributed. And if they don't surrender the U.S. $114 million, history will judge them as liars. Now, the workers have to say their part. Those who affirm there is available U.S.$114 million must provide it since it appears they were in some other negotiations with the companies that we weren't aware of.
DOWN WITH ANGRY AND FRUSTRATED YELLOW UNIONS!
DOWN WITH UNIONS AT THE SERVICE OF THE MINISTER OF LABOR, LYING AND THROUGH CORRUPTION, OFFERING WORKERS MONEY TO RECRUIT THEM.
TRUTH IS OUR GUIDE!
THEY MUST GIVE UP THE U.S. $114 MILLION!
THE STRUGGLE HAS JUST BEGUN!
WORKERS, KEEP YOUR HEADS UP, DON'T LET THEM DISTRACT YOU INTO THE DARKNESS!!!
JANUARY 6, 2015
Take action:
We exhort our friends and sympathizers to also denounce this act internationally, and put CNOHA on notice that they will not get away with harming Yannick!
Email CNOHA at cnoha.haiti@ymail.com and its leader Dominique St. Eloi: sainteloid@yahoo.com
(Please cc Batay Ouvriye: batay@batayouvriye.org)
Some points you could include in your email:
We denounce this foul attack on Yannick Etienne!
We stand with Yannick, Batay Ouvriye, and the struggle of Haitian workers!
Your actions are being watched internationally. BACK OFF!
In solidarity and struggle,
The Rapid Response Network
Join the Rapid Response Network by e-mail and Facebook
https://www.facebook.com/RapidResponseNetwork