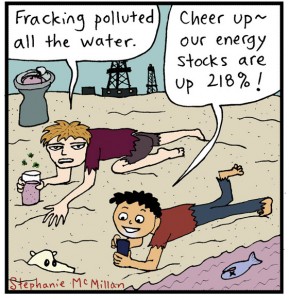 Stop Global Warming — End Capitalism!
Climate change is no longer in the future: it is happening now. The effects are apparent all over the world: floods, rising sea levels, species extinction, droughts, wildfires, heat waves, intense storms, and the loss of drinkiing water due to salt water intrusion—all of these will only get worse if things keep going in the same direction.
We in South Florida are seeing it with our own eyes, every time it rains—the water increasingly has nowhere to go, backs up from storm drains and floods the streets to levels we've never seen before. Just 3 feet of sea level rise will put 1/3 of southern Florida underwater.1 If nothing is done to lower carbon emissions, the whole state and many other coastal regions of the world will be flooded and eventually permanently submerged.
There is no doubt among most scientists that global warming is an accelerating emergency that we have to deal with NOW if we are to save the Earth's ability to support life. But capitalists (those who own, control and benefit from the profit system) only care about making money—it doesn't matter how, or how many of us they kill in the process.
In fact, FPL, which made $1.35 billion profit in 2013, plans to build a huge power plant in the middle of the Everglades that we don't even need, which will require 22 million gallons of water a day to run. Their Palm Beach plant already releases 9.1 million metric tons of CO2, the most of any power plant in the region.
Governor Rick Scott invested in a company involved in oil drilling and illegal acid fracking in the Everglades, while overseeing the layoff of dozens of regulators from the Florida Department of Environmental Protection.2 Continue reading →