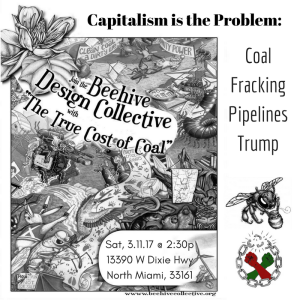 Join us in Miami on Saturday, 3/11/17 as we host "The True Cost of Coal," a presentation by the Beehive Design Collective!
The Beehive Collective uses art in the form of giant murals to discuss complex issues like exploitation, capitalism, and environmental destruction.
Our visiting bee will also share their experience from #NoDAPL resistance in Standing Rock, ND.

The True Cost of Coal reflects the complexity of the struggles for land, livelihood, and self-determination in Appalachia, and was made with the intention of honoring the tremendous history of organized resistance and the courage of communities living in the shadow of Big Coal.
We want to use this as a spring board to talk about the moment we are in – one where fascism is looming; where Trump is leaning on coal miners and workers to build a social base; where extreme extraction in the form of fracking has come all the way to the Everglades; pipelines are snaking across the country, down into South Florida; and our organization to fight back is lagging behind.
Too often, exploitation of labor and land are disconnected and pitted against each other. We'll discuss the need to link these struggles and all others against our common enemy – capitalism.
Don't miss this! See you there!
Saturday, 3/11/17 at 2:30pm
Sant La Neighborhood Center – 13390 W Dixie Hwy, North Miami, 33161
*Thanks to Sant La Haitian Neighborhood Center for hosting us in their space.