by SC & Eeb
The world over, water, land, and life are under attack by capitalists' desperate need to expand markets.  Extraction, especially hydraulic fracturing or fracking, is expanding at alarming rates in North America.  Pipelines are snaking their way from coast to coast.
In Standing Rock, North Dakota, indigenous tribal leaders and thousands of people from across the US said, "Enough!"
Given the strong resistance to the Dakota Access Pipeline, energy companies building pipelines in Florida are hustling to get their projects done before they receive too much attention.    
Florida already has two natural gas pipelines running through the state.  The Gulfstream pipeline transports natural gas from Louisiana, under the Gulf of Mexico, to Tampa Bay, Florida.  The Florida Gas Transmission moves natural gas from south Texas to south Florida.  Both have had plenty of leaks and accidents.
Now, Florida Power & Light (FPL – a subsidiary of Next Era Inc.) and Duke Energy, the main energy suppliers in the state, claim they need to build another pipeline and more energy plants to "meet Florida demands for natural gas."
The actual need, though, is more likely that of company shareholders to increase profits. " 'The pipeline business will overbuild until the end of time,' announced Kelcy Warren, CEO of Energy Transfer Partners (ETP), a Dallas, Texas, natural gas and propane company, at an August 2015 earnings call."
Two new pipelines are underway, or plan to be built, as part of the Southeast Market Pipeline project to move natural gas fracked in the Marcellus Shale region, down to the southeast.
The Sabal Trail Transmission, LLC is a joint venture of Spectra Energy Corp, Next Era Inc., and Duke Energy.  Originating in southeast Alabama, the Sabal Trail line includes about 465 miles of underground pipeline through Georgia, and down into Hendry County in central Florida.  Sabal Trail will connect to a brand new Duke Energy natural gas power plant, to be constructed just south of Orlando – the Sabal Trail Central Hub.  "The Sabal Trail pipeline will be capable of transporting more than 1 billion cubic feet per day of natural gas to serve local distribution companies, industrial users and natural gas-fired power generators in the Southeast" (FPL).
From the Sabal Trail Central Hub, an additional 126-mile pipeline – the Southeast Connection – is to be built, moving gas down to FPL's existing Martin County Clean Energy Center in Indiantown, Florida, situated next to Lake Okeechobee and the headwaters of the Everglades – one of the most unique environments on the planet.
Construction is under way already in north Florida, Georgia & Alabama.  The companies plan to have the entire pipeline operating by June 2017.

What's at Stake
This is one of our favorite springs in Florida.  Aquifer-fed springs, pump out Caribbean blue water, feeding rivers full of fish and birds.  This is where manatees come in the winter and people swim in the summer.  These springs are the lifeblood of people, rivers, forests, economies and cultures.
Florida springs are fed by the Floridan Aquifer, one of the largest freshwater aquifers in the world.  It also provides 60% of Florida's drinking water.  
Karst – delicate and porous limestone bedrock – is what lies beneath our feet in Florida, between us and the aquifer system.  Water from the aquifer runs through small pores of the karst and through extensive underground caves. When karst is under pressure, water can bubble to the surface.  This is how the springs evolved. "It's not hard to imagine how contamination to the limestone aquifer in one area can spread rapidly and widely" (Fracktracker).
"The karst bedrock, due to the sometimes large voids in its structure, is also prone to the formation of sinkholes, some of which are small; others are large enough to swallow whole buildings. Recognizing these risks, opponents of the Sabal Trail pipeline frequently cite the inherent danger of pipelines bending and rupturing should the ground beneath them give way, leading to potentially dangerous gas leakages or explosions" (Fracktracker). 
According to South Florida Wildlands Association, "here is the U.S. EPA's original assessment of the impacts of the Sabal Trail Pipeline from October, 2015: 'The proposed pipeline is expected to have potentially significant environmental issues related to drinking water supplies (Floridan aquifer), sensitive geologic formations (Karst), wetlands, conservation areas, environmental justice (EJ) communities, and air quality and greenhouse gas (GHG) emissions.' "
Seven weeks later, the EPA reversed itself and gave its approval for the project.
The pipelines will go very close to several springs, sinkholes and under several rivers, including the Withlacoochee River in Georgia and the Santa Fe and Suwannee Rivers in Florida.  They've already completed drilled beneath the Withlacoochie and Santa Fe rivers.  Drilling is currently underway at the Suwannee.
Despite Sabal Trail Commission claims that the "pipeline will not contaminate drinking water or aquifers," toxic drilling mud has already spilled into the Withlacoochie River. Flows from the Withlacoochie feed the Floridan aquifer. 
Environmental groups like WAALLS Watershed Coalition are tracking construction violations, and despite claims of a top notch safety record , all of the companies involved have long track records of safety violations and pipeline explosions. Here is a list of Spectra-related incidents alone. 

Why? Because Capitalism.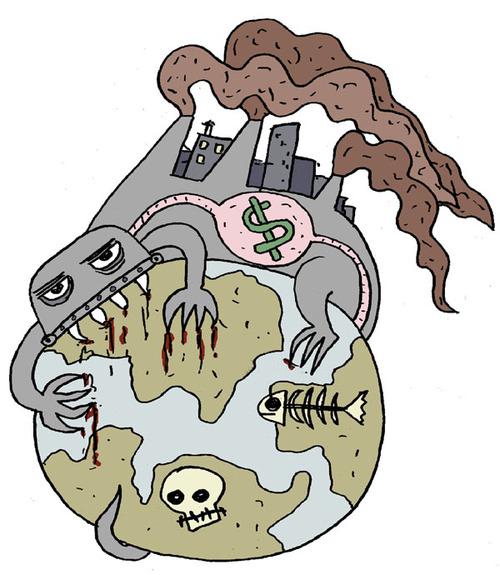 Capitalists are waging war on us, on water, on life.  We know climate change is real.  We know that fossil fuels, especially fracking, are taking us deeper into environmental crisis and poisoning water supplies.  Pipelines leak.  Accidents are bound to happen.  It's only a matter of time.  We know that all forms of life depend on water.  And yet, fracking is expanding, with more pipelines being approved and being built at high speed.
Constant growth, expanding markets, and ever-increasing profits are inherent to capitalism.  This inevitably leads to the commodification of everything.  Under capitalism, oil cannot stay in the ground.  Water cannot be a human right.  Wages must continually be cut.  The blurring of state and private interests is a result of this need to expand markets.  Education, healthcare, prisons, anything in the realm of public interest must be privatized for capitalism to continue.  
Disasters or scarcity present demand and new markets. Climate change disasters have the potential to drive up the prices of housing, water, and more.  This works in the interests of capitalists who literally invest in and speculate on our demise.     
Capitalism also stifles innovation.  Competition, coupled with that growth imperative, drives the consolidation of markets and industries.  So, a handful of corporations with their own economic interests control what technologies and ideas get diffused into society. Florida is known as The Sunshine State, and yet it's near impossible for Floridians to utilize solar power.
Tim Dickenson of Rolling Stone Magazine found that "the solar industry in Florida has been boxed out by investor-owned utilities (IOUs) that reap massive profits from natural gas and coal. These IOUs wield outside political power in the state capital of Tallahassee, and flex it to protect their absolute monopoly on electricity sales." 
FPL and other IOU's depend on building new infrastructure, based on fossil fuels, to generate expanding profits for their shareholders.  Although solar is a cheap and renewable source of energy, it is blocked because it poses a threat to capitalists' ability to capitalize on energy.
An important note:  Solar energy, on its own, will not resolve the crises we face.  We must address the economic arrangement that determines how solar and other technologies are implemented in society.  Solar power under capitalism will still require exploitation of people and resources, for the profit of a few capitalists.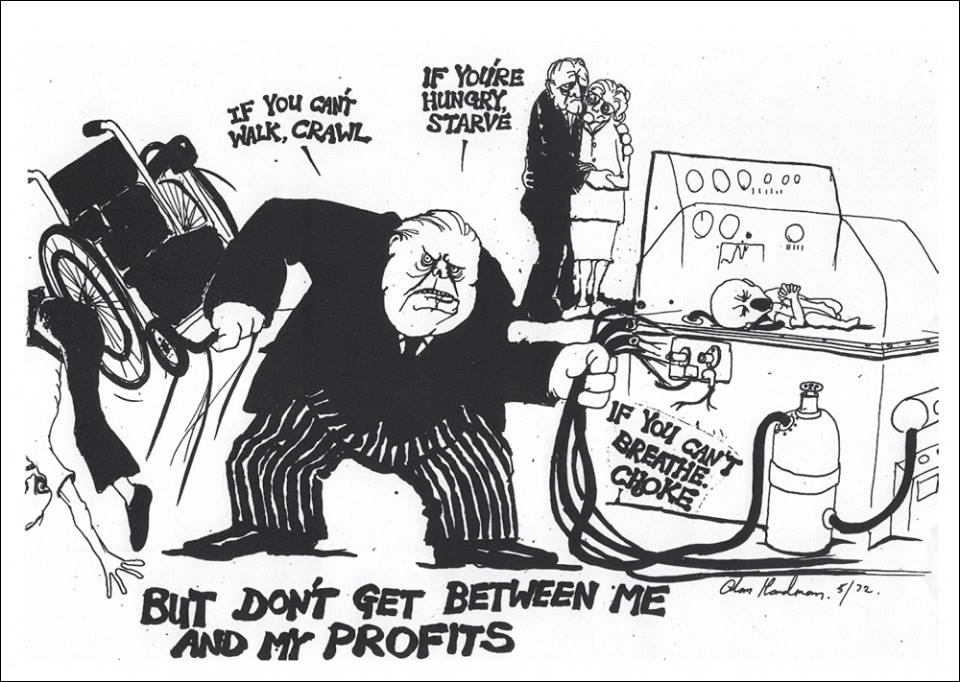 Currently, capitalism is in crisis.  The potential to grow and expand is reaching physical limits.  Finance, debt and speculation have toxified the global economy.  This is why we see capitalists making mad dashes to force dangerous and exploitative practices that previously wouldn't have been options – fracking in the Everglades, pipelines through delicate karst.  It's also why we see the rise of fascism, the merging of state and corporate interests, xenophobia, nationalism, and mounting racism.  
The fight against the pipeline, the fight against stagnating wages, the fight against student debt, stop and frisk, xenophobia, racism must all be waged in the context of capitalism.  This is the economic arrangement, or glue, that binds all these forms of exploitation and domination.
Pipeline Resistance Underway
*This section updated on 03.02.17
BIG thanks to the folks who have been fighting these pipeline projects, since Spectra Energy & FPL first applied for permits in 2013.
Pulled from sabaltrailresistance.wordpress.com, below is a sort of status update of current anti-pipeline efforts.
There is a

federal lawsuit pendi

ng

against the Environmental Impact Statement (EIS) for its major failure to assess environmental justice issues (where 83% of the route impacts low-income rural people and communities of color) and cumulative impacts of the pipeline (like, looking at power plants and

export facilities

where the gas is destined). This could send the project back to the drawing board for violations of the National Environmental Policy Act (NEPA). (

https://sabaltrailresistance.wordpress.com/contact/stop-the-suwannee-river-crossing/

)
There are currently two full-time encampments in North Florida and the possibility of more to emerge along the route.  Folks are invited to help build opposition on the ground to this fracked gas pipeline.
These links provide details and directions to the STR camps:


Water Is Life Camp

(near Branford, FL)


Sacred Water Camp

(near Live Oak, FL)

As of 03.02.17, a Sabal Trail Resistance organizer let us know that the above camps are no longer functioning.
As of Feb. 2017, there is a campaign house in downtown Dunnellon, FL, at 11719 N. William Street., and STR organizers invite folks to come by.  Find out more via Facebook @WaterIsLifeHouse Or give them a call at 352-445-5760
The following dates are offered as moments of focused escalation to those who can only come for a limited time.
Dec 24: Protest at the Santa Fe and/or Suwannee River pipeline drilling sites
Dec 28 – Jan 2: Action Camp at WIL, near Santa Fe River
Jan 14 – 15:  Mass Civil Disobedience Action to Stop Pipeline Drilling Under the Suwannee River
Feb 3: Festival of Pipeline Resistance at SWC [featuring Punk Black bands from Atlanta, other music TBA]
March 10 – Statewide Student Walk-Out in solidarity with students in schools along the route,
March 17 – Divest and Disrupt! coordinated day of bank exit actions targeting Bank of America
April 1 – Day of Mass Civil Disobedience Against Sabal Trail [location TBA]
Daily updates and news through #StopSabalTrail
https://sabaltrailresistance.wordpress.com/


Reforms are Not the End Goal
We encourage folks to get involved in whatever way they can to push back against this pipeline and the many threats it poses.
That said, a lesson to learn from Standing Rock, is that reforms to capitalism may give us temporary concessions to deal with immediate situations, but ultimately they work out in capitalists' interests.  Obama helped pause the construction of the Dakota Access Pipeline, but the company response made clear that this construction will happen one way or another. 
Reforms will always be temporary and are often used to pacify us.  We need to engage in struggles for reforms strategically as part of a longer-term objective of a mass movement against capitalism.  In reality, pipelines will continue to be built until we change the economic arrangement that determines how we meet our needs as a society.
The state – government, politicians, regulatory agencies, police – are organized for capitalists' interests.  Florida governor Rick Scott is actually invested in the Sabal Trail Pipeline.  Politicians will always sell us out, even if they throw us some bones here and there.  Spectra Energy pays the police to protect their destructive project for profits. Regulatory agencies that supposedly represent public and environmental interests are in the pockets of industry capitalists.
We should clearly understand this relationship.  Sure, sign the petition to stop fracking. We did.  But, know that people organized as a social force, demanding change, is what will compel the state to make any concessions to the people.  
Our role as organizers against capitalism and imperialism is to engage in theses struggles to protect our water, while at the same time raising class consciousness.  This means recognizing our interests are in opposition to capitalist interests, and that only we can represent ourselves.  We must focus this consciousness into building organization and a mass movement, capable of confronting capitalism.  
For the moment, we may be the minority.  But, we will find folks who agree with us.  We need to build relationships with these persons and get organized.
It's also critical to recognize that the fight against this pipeline is not a fight against pipeline workers.  They are dominated by capitalism as well, compelled to work a job that exposes them to poisonous toxins and destroys their children's land, water, and air.  Extraction industry workers are often pressured to work as fast as possible, to ignore safety guidelines risking their lives to increase production and profit, while wages are stolen from them.
Imagine if pipeline workers chose to stop their machines and to go on strike.  Then, it's seriously on.  This is the type of shift in relation of forces we need.  This requires a broad movement that goes beyond single issues and makes the connection that all of us, dominated and exploited by capitalism, must unite.  
One Struggle is organized around this concept—uniting all who can be united at this moment; growing organized relationships and networks of people who agree that capitalism must die; and determining how we can fight together.
If you have some level of agreement, want to work together, or get involved, don't hesitate. Get in touch.  
There are countless ways to join the struggle.  The moment to do so is now.
STAND UP. FIGHT BACK. ORGANIZE.
onestruggle.southflorida@gmail.com
https://www.facebook.com/OneStruggle/
Sources:
Buhl, Larry. "Critics Call $3 Billion Sabal Trail Pipeline Florida's Dakota Access Pipeline." DeSmog Blog. Dec 4, 2016.
https://www.desmogblog.com/2016/12/03/critics-call-3-billion-sabal-trail-pipeline-florida-s-dakota-access-pipeline
Buhl, Larry. "Sabal Trail Opponents Say Pipeline Is Part of Florida's 'Overbuilt' Gas Infrastructure." DeSmog Blog. Dec 9, 2016.
https://www.desmogblog.com/2016/12/09/sabal-trail-opponents-say-pipeline-florida-overbuilt-gas-infrastructure
Christensen, Dan. Gov. "Scott had stake in pipeline firm whose $3 billion venture he and his appointees backed." Florida Bulldog. Published in The Miami Herald. July 21, 2014.
http://www.miamiherald.com/news/state/article1976380.html
Dickinson, Tim. "The Koch Brothers Dirty War on Solar Power." Rolling Stone Magazine. Feb 11, 2106.
http://www.rollingstone.com/politics/news/the-koch-brothers-dirty-war-on-solar-power-20160211
Evans, Nick. "Drilling Mud Leak In South Georgia Raises New Sabal Trail Pipeline Concerns ." WFSU Public Radio. Nov 14, 2016.
http://news.wfsu.org/post/drilling-mud-leak-south-georgia-raises-new-sabal-trail-pipeline-concerns
Florida Gas Transmission. Kinder Morgan.
http://www.kindermorgan.com/pages/business/gas_pipelines/east/FGT/default.aspx
Florida Power & Light. Clean Engery – Natural Gas – Pipeline Projects
https://www.fpl.com/clean-energy/natural-gas/pipeline.html
Florida Southeast Connection.
http://www.floridasoutheastconnection.com/
Food & Water Watch. "Natural Gas Pipelines: Problems from Beginning to End."
http://wiregrass-ace.org/linked/natgaspipelines.pdf
FractTracker.  Sabal Trail Pipeline
https://www.fractracker.org/2016/11/sabal-trail-pipeline/
Groger, Lena. "Pipelines Explained: How Safe are America's 2.5 Million Miles of Pipelines?" ProPublica. Nov 15, 2012.
https://www.propublica.org/article/pipelines-explained-how-safe-are-americas-2.5-million-miles-of-pipelines
Gulfstream Natural Gas Pipeline.
http://wp.gulfstreamgas.com/
Neuhauser,  Alan. "Oil and gas companies stiff 29,000 workers out of $40 million." US News. April 4, 2016.
http://www.usnews.com/news/articles/2016-04-04/oil-and-gas-companies-stiff-29-000-workers-out-of-40-million
Schweers, Jefrrey.  "Sabal Trail Pipeline cuts through heart of springs country." Tallahassee Democrat.
http://www.tallahassee.com/story/news/2016/12/17/sabal-trail-pipeline-cuts-through-heart-springs-country/95470950/
South Florida Wildlands. Info and elements of Southeast Connection/Sabal Trail pipelines.
https://www.facebook.com/events/202730833490409/
Sabal Trail Commission. Common Misconceptions.
http://www.sabaltrailtransmission.com/common-misconceptions
Sabal Trail Commission. Home page.
http://www.sabaltrailtransmission.com/
Sabal Trail Transmission.  Economic Benefits.
http://www.sabaltrailtransmission.com/Economic_Benefits
Spectra Busters.  Spectra Safety Violations.
http://spectrabusters.org/hazards/spectra-safety-violations/
Spectra Energy – Sabal Trail Transmission
http://www.spectraenergy.com/Operations/US-Natural-Gas-Operations/New-Projects-US/Sabal-Trail-Transmission/
WWALS Watershed Coalition – Issues – Sabal Trail Pipeline
http://www.wwals.net/issues/stt/