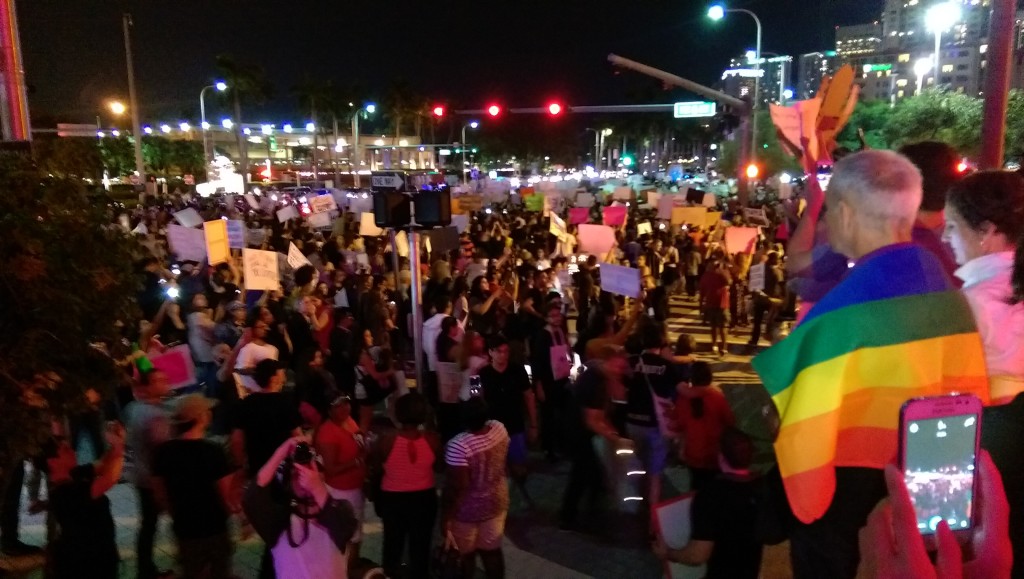 Friday, November 11th – thousands of Miamians took the streets of downtown Miami to protest the election of Donald Trump. Starting at Bayfront Park, we marched north up Biscayne Blvd, onto the 395 causeway to Miami Beach, temporarily shutting down traffic in both directions. The march continued for several hours, moving back south through downtown and onto I-95.
This anti-Trump demonstration showed the promise and potential of this volatile moment. It's impossible to ignore what's happening in the world around us anymore. Millions of people are showing up to demonstrations to express discontent. People are fed up. Some are angry. Everyone is talking politics.

We also observed moments of cooperation and solidarity. A man fell, and everyone in the surrounding area raced over to help him up and to be sure he was OK. A woman warned us to "watch out and stick together," because some jerks in a high rise condo building across from the American Airlines Arena were dropping bottles onto the crowd.  These are really minor instances, but meaningful in Miami, where it's most common for people to pass each other by, even when a fellow human is in danger or distress.
Most importantly, it seems people recognize the need to organize!
Inspiring acts of protests continue across the country and the world. The effectiveness of these mobilizations will be determined by what comes next. How can we develop these outcries into an organized force, capable of pushing for change?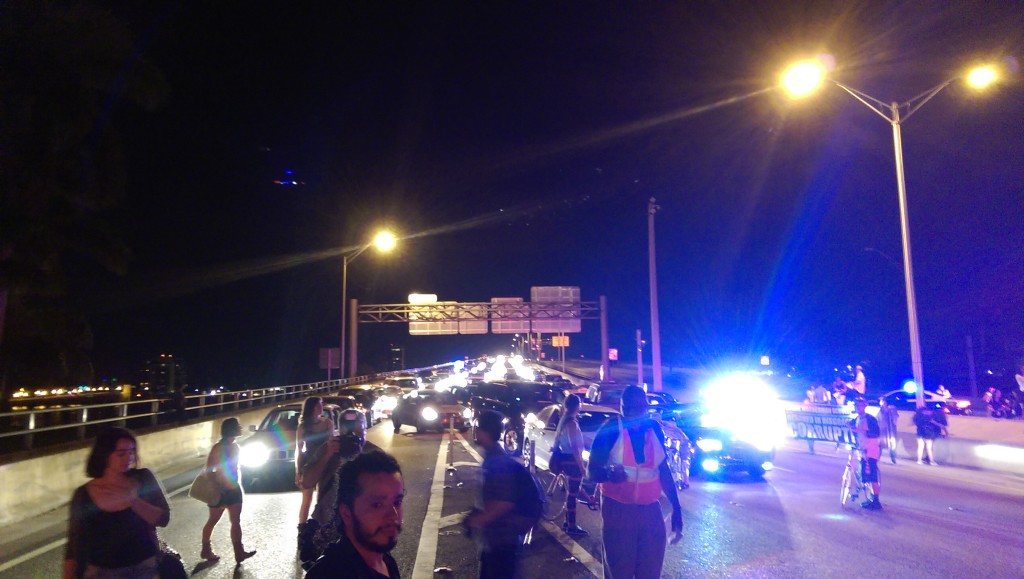 This Miami action also reflected fragmented and disoriented qualities. It was a long march with people constantly joining and leaving, but it lacked a beginning or ending point that provided a space for people to express different political opinions and for people to find political allies.
Much of the march was very passive. One friend commented, that at moments, it felt like a leisurely stroll. The cops corralled and observed us, driving ahead to politely block the streets and highways for us – very different from the Miami Model of policing used during Miami FTAA protests in 2003.
This is a reflection of our general consciousness and organization. While it hasn't been that long since the movements of the 60's and 70's, or even the anti-globalization movement of the 90's, our collective memory is severely faded. Organizations that struggled for change have been forgotten.  Too often we don't take time to learn from their experiences. We are unsure of how to act. We don't fully understand the situation we face. We are weak.
Now is the time to gather our bearings and our strength.
We need more than ever to raise our collective consciousness, to recognize that capitalism brought us to this moment of crisis and looming fascism.
We need to understand that racism, misogyny, transphobia, Islamophobia are ideological distractions to divide us.   While tackling these issues, we must get to the core of this situation – the economic arrangement of society – capitalism & imperialism.
We need to build unity and struggle with each other towards our common goals. We need to build solidarity among each other, recognizing the distinction between our interests and those of the capitalists'.
This will require stepping out of comfort zones – to think and act beyond our individual interests. It's time to have hard or uncomfortable conversations. It's time to put aside fear and to fight for our future.
We cannot and will not accept mass deportations, a wall, the loss of abortion rights, further privatization of healthcare, nor racists and fascists.
Below is the leaflet that a few of us handed out at the Miami demo. We want to build organizations to push for a future free of class divisions, racism, oppression, and exploitation. We want a future that does not destroy our land, air and water.
Let's start this work now – in our homes, our neighborhoods, schools, workplaces, in our cities and towns.
Let's build a movement against capitalism, imperialism & fascism!
If this resonates with you, take a look at our Points of Unity, and don't hesitate to get in touch.
Onestruggle.southflorida@gmail.com
Facebook.com/onestruggle