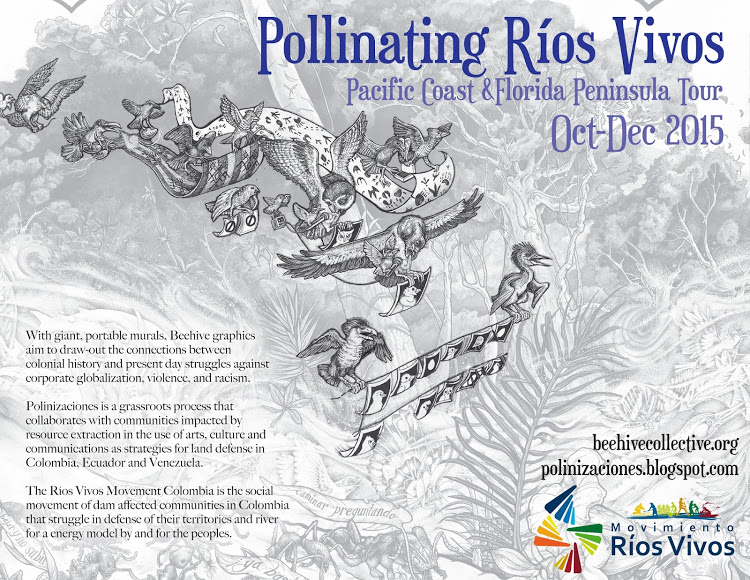 The time has come!  Join us this Saturday 1/9 at 3pm.
One Struggle is excited to host the Miami stop of the "Pollinating Ríos Vivos" tour!
"Pollinating Ríos Vivos" is a joint project of The Beehive Design Collective and Movimiento Ríos Vivos.
Movimiento Ríos Vivos Colombia is the collective effort of dam-impacted communities in Columbia fighting to defend their territories and rivers.
Beehive Design Collective creates anti-copyright graphics as tools for popular analysis, education, and organizing. Workshops and presentations use giant, portable murals to deconstruct complex issues of globalization, climate change, colonization, and resource extraction.
This collaborative tour shares stories from Ríos Vivos Colombia, the social movement of dam impacted communities that struggle for the defense of their territories and rivers, and for an energy model by and for the people, and also the work of Polinizaciones, a Beehive grassroots process that collaborates with communities impacted by resource extraction in the use of arts, culture, and communications as strategies for land defense in Colombia, Ecuador, and Venezuela.
One Struggle is an anti-capitalist, anti-imperialist collective that makes the connections between many of the issues listed above (ecocide, poverty, globalization) to the capitalist system. The mission of the organization is to raise consciousness in our communities about these connections and to push for autonomous organizations.
Part of the workshop will include a brief presentation about imperialism in Haiti. The presentation will draw from past personal experiences, as well as connections with on the ground organizers and workers in Haiti.
Event co-sponsored by Black Rose / Rosa Negra – Miami, Florida Student Union, and FIU Fine Arts Student Association.
Location: Libreri Mapou Bookstore – 5919 NE 2nd Ave, Miami, Florida 33137
Date: 1/9/16
Time: 3pm