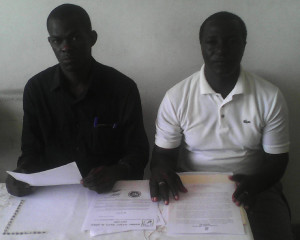 From PLASIT — TEXTILE UNIONS' PLATFORM
Workers of all factories, laborers, Labor Organizations, popular organizations, students, street vendors, progressives and all those who are struggling to make a living: come and join the March on May Day 2015 to demand:
A minimum wage of at least 500 gourdes and all arrears retroactive to October 2014;
A negotiated agreement between the union and the state on social benefits of food, transportation and housing, etc;
A change to the 2009 law on wages allowing the unions to negotiate the piece rate, quotas and price;
Build modern cafeterias so workers don't have to eat lunch alongside garbage and mud;
Comprehensive reforms at ONA and OFATMA for better services;
Agrarian reforms so small peasants could work in security and with technical support;
A New Labor Code and Rural Code that protect workers' rights and the environment;
The re-instatement of all Executive Board members of the SYNOTHAG Union at GMC.
We will begin rallying at 8:00 A.M. in front of the SONAPI Industrial Park, then will proceed along the road to the airport, Delmas 3, Delmas 1, Sanfil St, Montalè St and end at Champs-de-Mars. Pass the word around, pick up one another to show them what we are worth, us workers.
LET'S MAKE IT A COMBATIVE MAY DAY!!!
LONG LIVE WORKERS' STRUGGLES WORLDWIDE!!!